Visual Arts & Crafts Makers Award
January - May 2023

Anne will be using this funding award to spend time in residence at Cove Park, researching and experimenting with sustainable 3D papermaking techniques to complement her existing printmaking and sculptural practice.

Funders: Creative Scotland, Live Borders, Dumfries & Galloway Council

VACMA Website




Red Lines (found object micro-sculptures, Cove Park, 2022)
Image description: Three square images of smooth, eroded pottery fragments wrapped systematically with linen thread, each with a red line across it, set on rocks covered in yellow algae.





ROAM (West)
October 2022 - September 2023

A 12-month group residency exploring how contemporary art practice can be developed and nurtured in the rural western part of Dumfries & Galloway. This includes building collaborative relationships and a new body of work.

Partners: Upland CIC, fellow artists
Funding: Creative Scotland

ROAM Project Website




2D and 3D sketches, working into shapes and voids (Gracefield, 2022)
Image descriptions: 1) a plaster and wire construction on a black background, 2) an abstract black, white and orange pastel sketch, 3) crumpled black and white paper forms





Lead Artist: West Cumbria Rivers Trust Youth Panel
September 2022 - September 2023

A participant-led project, working with the WCRT Youth Panel to develop a public creative response to a fragile river catchment. Working outdoors in Walkmill Woods.

West Cumbria Rivers Trust




Bushcraft projects and live creative writing in the forest (Walkmill Woods, 2022)
Image description: Two square images of teenagers doing bushcraft activities in the woods, one with long blond hair is looking through a picture frame she has made, and an installation of creative writing hanging in a tree





TIDAL: Digital Artists Development Lab
December 2023

Anne was selected for this exciting micro-residency focused on developing digital skills and networks, around the central themes of climate change and coastal environments.

Partners: Signal Film & Media

TIDAL Project Website


Fieldwork, Walney Island and Barrow-in-Furness, 2022
Image description: A black and white photograph of three young artists in a derelict military installation, and a coloured photograph of a derelict wall and scaffolding





Moss of Many Layers
January – September 2022

An innovative, multi-disciplinary environmental project, artist-led and funded by the Natural Environment Research Council. Through work with schools, scientists and other artists, Anne is helping a rural community rebuild their relationship with a local peat bog as it is restored to become a National Nature Reserve after a long period of peat extraction. The artist team are using site-based exploration, printmaking, co-creation, film and photography.
Partners: University of Cumbria, Natural England, Somewhere-Nowhere
Funding: UK Research & Innovation / Natural Environment Research Council

Project blogs
Determined Pasts: creative processing and grounding
Many Layers: the benefits of our multidisciplinary approach
Hand in Hand: throughts on collaborative engagement

Moss of Many Layers Project Website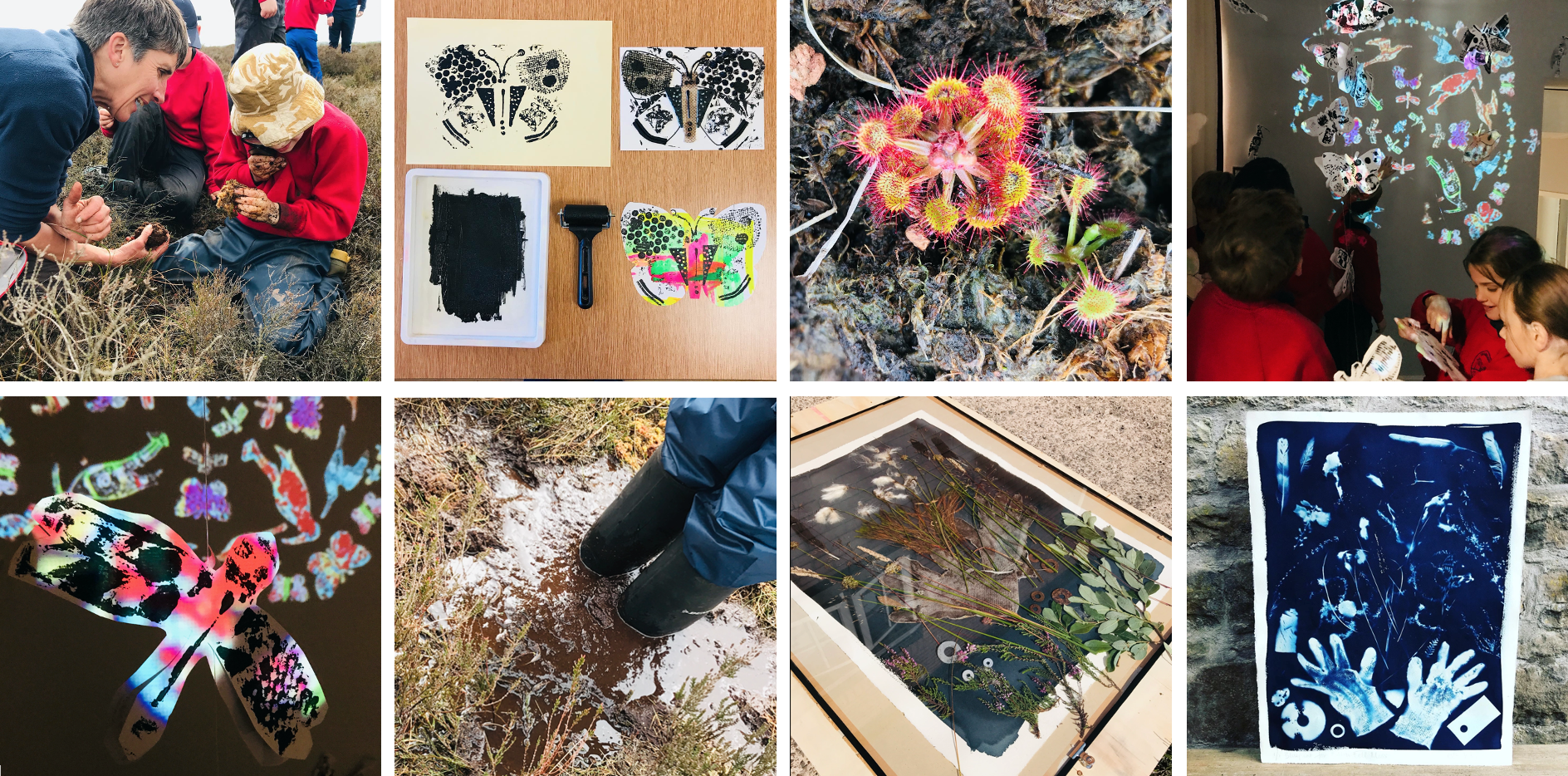 Creative immersion in a peat bog: Bolton Fell Moss, 2022
Image description: A montage of eight small square images depicting children and adults outdoors exploring a peat bog, and colourful printmaking inspired by their visits.





Artful Ways
June – September 2021

Mapping and understanding regional creativity by walking out across our boundaries and peripheries; connecting with the outside and looking back in; creating sculptural 'books' and a short film to tell the stories.
Partners: Cumbria Arts & Culture Network, Somewhere-Nowhere, Tullie House
Funding: Arts Council England

Artful Ways Commissioned Artists

Watch Her Line in the Sand, Anne's short film poem shot on an old iPhone documenting the first day the public crossing of Morecambe Bay's shifting sands was guided by a woman. Part of the Artful Ways Commission.
Florence Arts Centre
June 2021 - September 2022

As Director of this grass roots arts centre in west Cumbria, Anne saw it through a period of transition as we emerged from the Covid pandemic.

Her tenure saw strategy redrafted, the board restructured, a staff team established, essential renovations undertaken and a revision of programming objectives. This included refocussing and redeveloping the Florence Paintmakers project, creating high quality artists materials from natural pigments.

Through open calls and curated group shows, she engaged over 100 artists across 10 temporary exhibitions, slowly rebuilding the artist community around Florence with a focus on inclusivity, sustainability, fair pay and breadth of practice. She continued to curate selected collaborative projects for the centre after her departure as Director.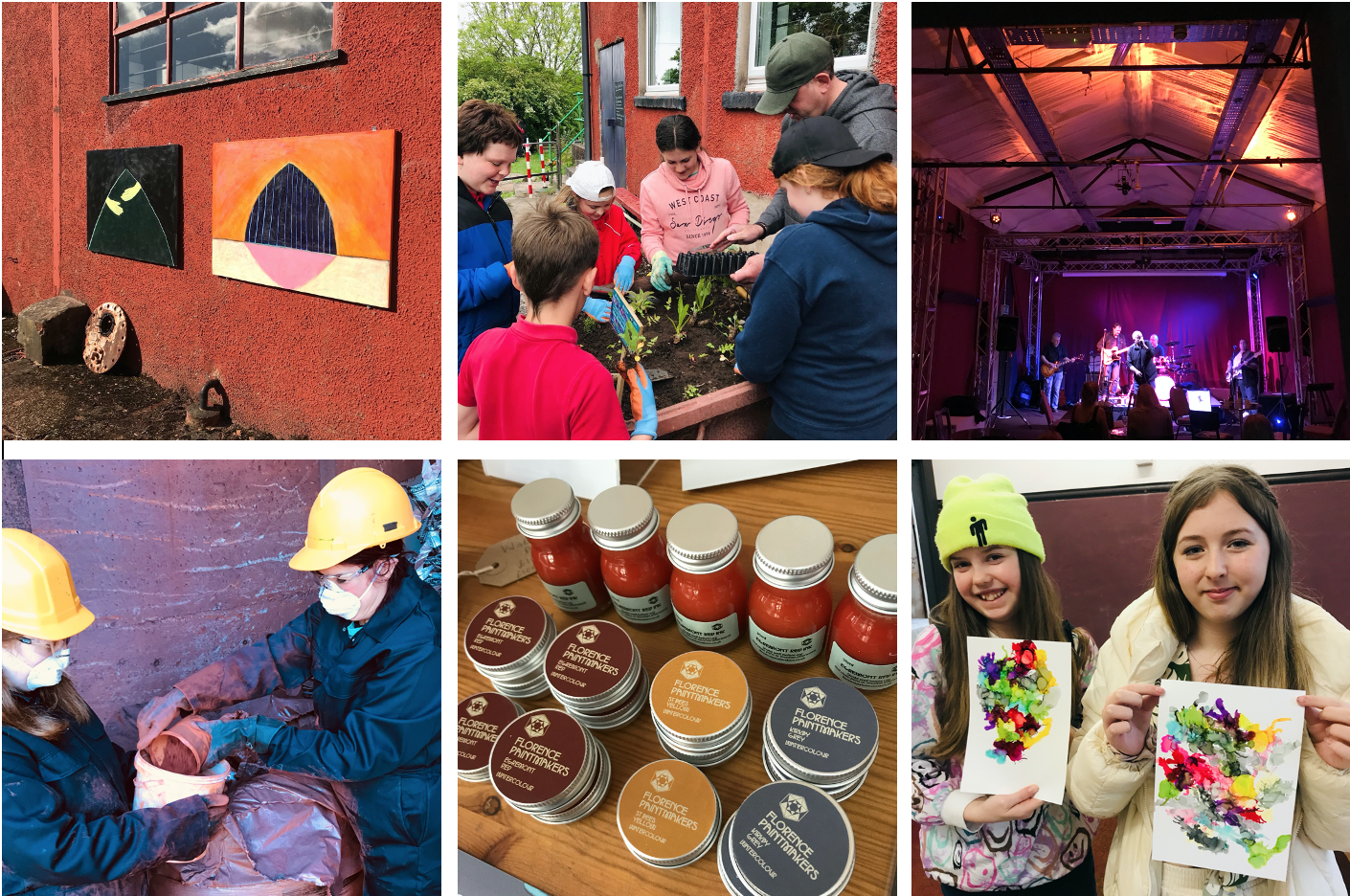 Florence Arts Centre, 2021-22
(Artwork top left by Kate Maltby)
Image description: A montage of six square photographs of activities at a community arts centre: an outdoor exhibition, children gardening and showing off their paintings, a band playing, and people making reddish inks out of iron ore pigment